Adding Your Portfolio
We've been asked so many times, "why am I not being hired for freelance projects?", and when we come to look at the Hero's profile there is no portfolio work. It seems obvious, but a client cannot determine what your skills are like if you have no portfolio for them to view. The below Heroes profile is full of a vast range of character work which shows clients that they have experience and work to back them up when applying for character projects.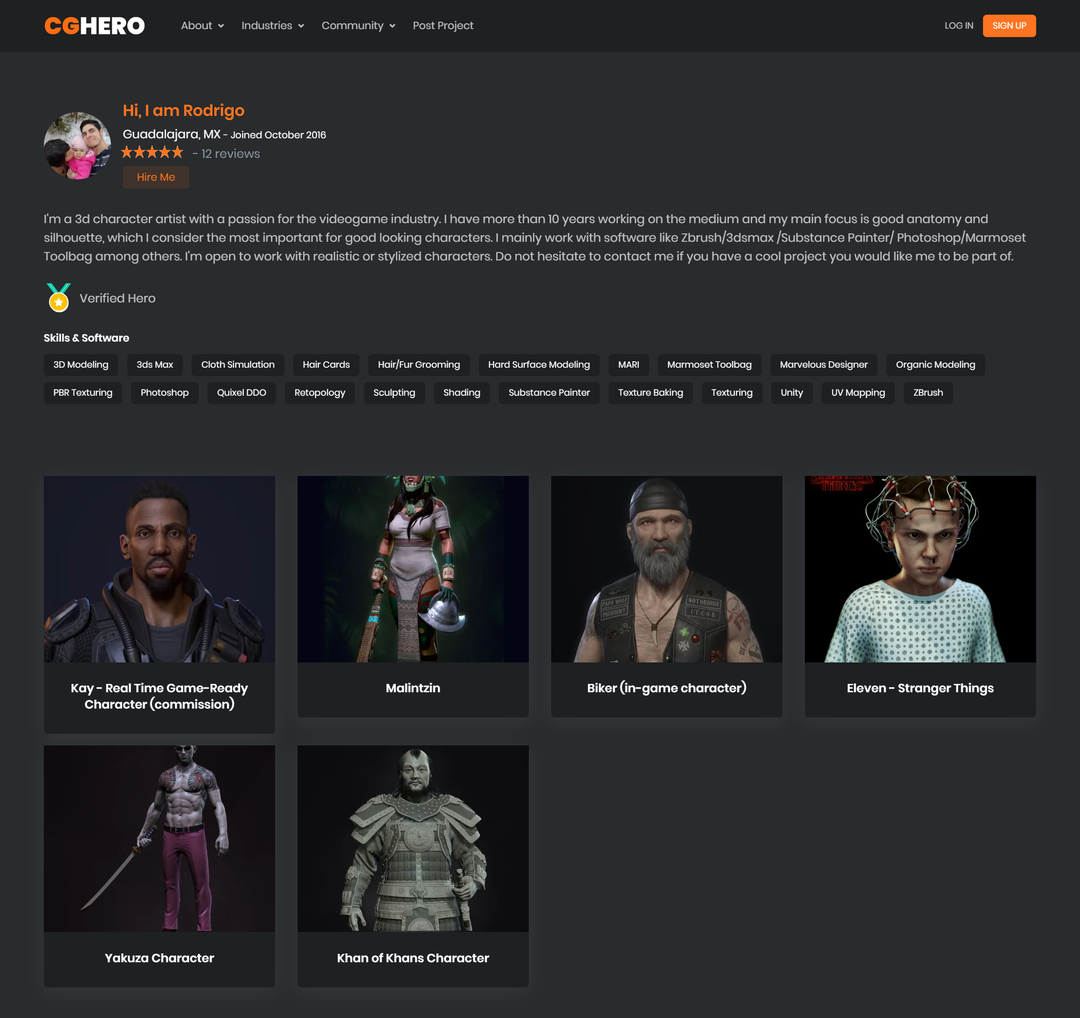 When it comes to adding portfolio, we recommend adding at 3-5 pieces of your best portfolio work and try to keep your focus around areas that you are passionate about and can deliver work on. The Hero above is clearly interested in Character Art and has only displayed this on his portfolio.
Additionally to presenting your portfolio to client projects, we have our Hero Search which allows clients to browse so having more individual pieces will increase your exposure in the search.
Complete Your Profile
Adding a Good Bio Description
To be taken seriously as a freelance digital artist, you should have a completed bio summary. This shows you have taken the time to provide clients with information about yourself, and save a lot of back and forth on messages from the client asking questions that could have easily be available on your profile.

A clear, brief bio about yourself and your experience is good practice, but from time to time you find on most freelance sites that profiles get bloated with things like contact info, a huge assortment of skills, including ones which they have minimal experience in, and links to external portfolios. Below are some examples of information that is good to have in a bio:
Role you see yourself as (3D Generalist. Texture Artist, Clothing FX (CFX) Artist etc).
How long you have been practising CGI
Any industry experience
Highlight key skills that you excel at
You can edit your bio summary here or by accessing this from the Edit Profile link from the dashboard menu
Adding Skills and Software
It's great to let clients know what what skills and software you use, but in a lot of cases, artists add every single skill they have ever attempted against their profile, rather than just their specialities. Branching out to other skills or software is great - but ensure you have spent the time to learn and understand the skill, and have some accompanying portfolio pieces on your profile. As mentioned before, it's great to have portfolio work that backs up what you can do, so focus your efforts on these skills and software and not on that one time you opened Marvelous Designer and completed a tutorial (we've all been there).

You can update your skills and software in the links provided.
Add a Profile Picture of..... You
A picture of you or your studio logo is the most effective way of presenting yourself. This shows that you are a real person or studio and helps the client to connect with the freelancer on a more personal level. It is a fact that most clients will ignore profiles that have the standard template image and on CGHero this is the case. 76% of Heroes who won work had a profile picture of them or their company logo. Some artist like to add digital work they have done as profile pictures, this is ok, but again you lose the personal connection with the client.

You can update your profile picture by clicking on the profile picture image on the dashboard
Final Checklist
Below is a summary of things to focus on when finalising your profile to ensure that you are ready to present to clients.
You should
You should not
If you have any questions around setting up your profile, please feel free to contact the CGHero Team over email or on the CGHero Discord Server.